On Wednesday April 1st we had a second online assembly, (after the first one we had) here are the notes from what was discussed in the hope that, even if super-incomplete, they might be of help to other people.
In general we ended with a call to everybody of reclaiming the public space in these times of physical distancing using any possible tactic. We encourage any action that goes in this way, like the one below.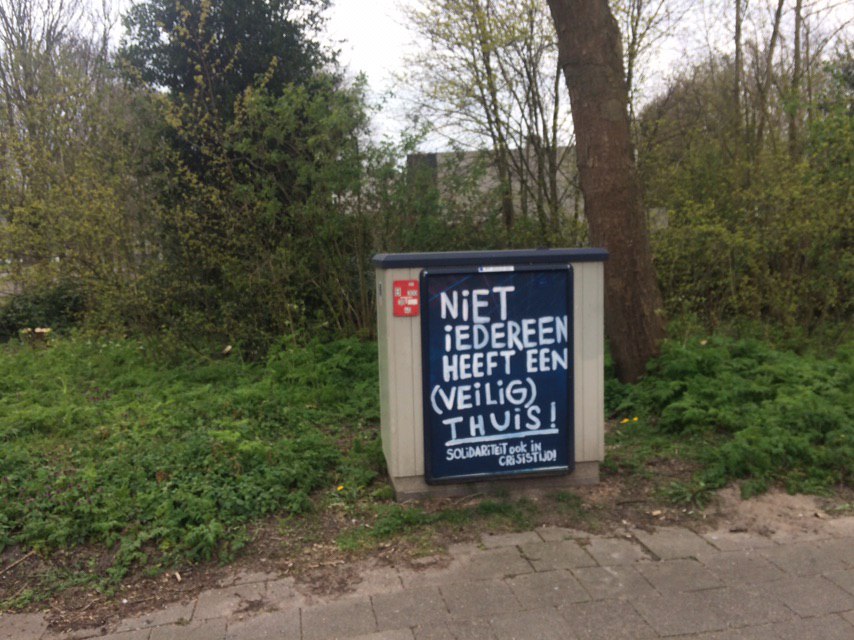 At the start, people expressed their feelings of going back and forth between the need of acting and apathy or despair towards the situation. Some of the issues contributing to people feeling down were the realization that this situation will last for long, and that therefore a lot of things people were looking forward to were not going to happen in the end, and of course the lack of interpersonal contact. Someone also mentioned the feeling of being overflown with too many broad political analyses without the possibility of directly acting on stuff. On the other hand some people had also some positive feelings mostly about perceiving that people are starting to act and still pushing for a radical leftist point of view.
Then we discussed some thoughts that people had about the current situation, to later move more concretely on things that we can do now and how to frame a leftist narrative in these times.
About the current situation, somebody mentioned how an external crisis, such as the corona-virus pandemic, is also resulting in a strong resistance to capitalism. We see many examples of mutual aid, solidarity and self-organisation rising up all over the world, that are undermining the usual rhetoric that wants us competing with each other, and putting under pressure the principles of a system that puts profit over people.
For example, in the Netherlands, people are starting to realize that a lot of underpaid jobs are the ones that are really needed right now (healthcare workers, cleaners, supermarkets' employees, teachers…).
We also see neoliberal politicians contradicting themselves constantly to still keep a human face, like for example Boris Johnson stating the other day that "there is such a thing as society", despite his tatcherian views of brazen individualism ("there is no such thing as society"), this coming few weeks after the same British prime minister was advocating for eugenicist plans of herd immunity.
The same trend we see with VVD retracting constantly what they say. First, for example, affirming that freelancers (ZZP'ers) chose to be self-employed and as such they should face the costs of it in times of crisis, then stating (after lots of criticism) that nobody will be left alone. The same thing happened with the discussion in the EU over eurobonds and financial measures to support Southern European countries, where the Dutch minister Hoekstra has been heavily criticized even by major Dutch economists, and had to retract there again. Beside these and other examples, however, it seems like Rutte and the VVD are being very careful with the things they say, and also saying things that they would have never said before. This is contributing to a big group of people in the Netherlands having trust in the way the government is dealing with the crisis, and it seems even that the VVD is rising in the opinion polls. We do see such a trend as worrying since the way the Dutch government is dealing with the crisis is very questionable and we think that it's important to expose them.
We also discussed quite a bit the imperialist perspective that is coming out of many speeches by the Dutch government, manifested for example in a certain feeling of being untouchable, in thinking that the pandemic could never hit a country like the Netherlands that bad. This overconfidence on the impossibility of this crisis coming puts all our bodies at risk. The same perspective was also noticed in the overuse of the term 'intelligent' or in phrases such as 'something that the responsabile dutch people can do', implying that other countries didn't have responsible people, or that their policies were not intelligent.
We then discussed briefly the example of Ede where small-scale markets were forced to close while big supermarket chains are the ones that can stay open. In general there's the feeling that small food shops are less visited than before, and even if we didn't discuss this further, we think it's important to find ways to address this issue. We also discussed the situation where a lot of people are finding themselves confined in their nuclear family unit, having to deal with problematic dynamics and at the same time unable to rely on their usual support networks. Also this is a topic that we would like to go back to.
The second part of the assembly was mostly focused on how to best frame a leftist narrative as a response to this crisis. We recognized the importance, in this context of general confusion and despair, of using a positive framing instead of an angry one, in order not to overflow people with negative messages. Being already full of worries and sadness people might not be very open to receiving them.
Nevertheless, we also shared some frustrations regarding certain positive messages that we hear and see all around us way too often these days, only focusing on 'being together', vague solidarity and so on. The heart-lines distributed in houses in Lombok to connect the neighborhood through harts hanging from the windows was brought up as an example of this. Messages like this one are very empty, since society is not equal and people are not all affected in the same way. Sharing love messages without political intentions of change won't do much sadly.
One of the good ways proposed to address this and at the same time confront the hypocrisy of politicians is that of using humor, possibly including statements used by politicians themselves.  Another one was the tactic of reclaiming mainstream slogans and discourses filling them with a political meaning. An example of that has been the action of Leiden voor14, where messages of vague support to supermarket employees that were going around having been linked to the campaign to raise the minimum hourly wage (see here). More about Détournement and Cultural Jamming can be read on Beautiful Trouble.